VA - Absolute Club Autumn Vol.4 (2012)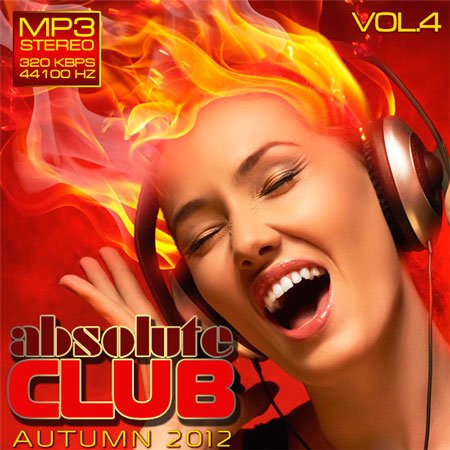 VA - Absolute Club Autumn Vol.4 (2012)
Dance, Club | VA
320 kbps | MP3 | unmixed | 2012 | 04:38:32 | 700 Mb
Uploaded:
ul.to, turbobit.net, unibytes.com
Tracklist:
01. Wonder Girls feat. Akon - Like Money (DJ Sergey Fisun Remix)
02. Owl City & Carly Rae Jepsen - Good Time (Liam Keegan 'Good Times Ahead' Radio Edit)
03. The Wanted - Chasing The Sun (DJ Yonce Radio Edit Remix)
04. Marcelo - Eu Quero Tshu Eu Quero Tcha (DJ Favorite And DJ Kharitonov Remix)
05. Ida Corr - Naughty Girl (Bodybangers Remix Edit)
06. Antillas & Blinders feat. Jenson Vaughan - Top Of The World (Blinders Radio Edit)
07. Lykke Li - I Follow Rivers (DJ Oleg Perets Remix)
08. DJ Favorite feat. Jamie Sparks - September (Radio Edit)
09. Maroon 5 - One More Night (DJ Yogurt feat. DJ Edo Ossepyan feat. DJ Sugar Remix)
10. Chris Brown - Don't Wake Me Up (Benny Benassi Mix Main)
11. Dee-Dee feat Ray Horton & Radu SIrbu - Gimme Your Love (Fresh Tunes Remix) (Radio Edit)
12. Steve Aoki & Angger Dimas feat. Iggy Azalea - Beat Down (Afrojack Remix)
13. R.I.O. feat. U-Jean - Summer Jam (Crew Cardinal Radio Edit)
14. DJ Feel feat. Aelyn - Your Love (Bjorn Akesson Radio Edit)
15. Example - Midnight Run (Wideboys Edit)
16. DJ Morgani - O Mama Mama (Bassless Mix)
17. Radio Killer - Calling You (Notrack Club Mix)
18. Dr. Kucho! & Angel Sanchez - Obvious (Alexey Romeo Remix)
19. Los Americanos - Red Light Angel (Pink Fluid Rmx Edit)
20. Conor Maynard - Vegas Girl (Wideboys Edit)
21. Fine Touch & Cristian Poow feat. Valessa - Rhythm Is A Dancer (2012 Radio Edit)
22. Nadya Vozduh & Jambazi - Desire
23. Bastian Harper Vs. Kevin Iszard - Hands Up (Daniel Pele Remix)
24. Aura Dione - Friends (DJ Nejtrino & DJ Stranger Remix)
25. French Affair - Comme Ci Comme Ca (Teh Noizee Remix)
26. Tacabro - Tacata (DJ Shevtsov & DJ Naytove Remix)
27. Will.I.Am feat. Eva Simons - This is Love (DJ Favorite & DJ Kharitonov Radio Edit)
28. Italobrothers - My Life Is A Party (Club Mix)
29. Deepside Deejays - Never Be Alone (Club Mix)
30. Martin Solveig - The Night Out (A-Trak Vs Martin Rework)
31. Alex Gaudino feat. Taboo - I Don't Wanna Dance (Bottai Remix)
32. Ñhris Parker - Welcome To Mars (Radio Edit)
33. Alex Hide feat. Audrey Valorzi - Invasion Of Love (Club Mix)
34. DJ Niki feat. IKA - Òàê Ëþáëþ (Club Mix)
35. G&G feat. Gary Wright & Baby Brown - My My My (Coming Apart) 2K12 (Max K. Remix Edit)
36. MatreShka Girls - À ß Ìèëîãî (DJ A-One Remix)
37. Jolyon Petch feat. DJ Favorite - Shaking That Ass (I See You Baby) (Original Mix)
38. DJ Liss feat. Mary Balak - It's My Life (Extended Remix)
39. La Chris - Dirty Girl (Crooper Remix Radio Edit)
40. Fedde Le Grand & Nicky Romero feat. Matthew Koma - Sparks (Turn Off Your Mind)
41. Matvey Emerson - Acid (Club Mix)
42. Calvin Harris & Nicky Romero - Iron (Radio Edit)
43. Michael Mind Project feat. Dante Thomas - Nothing Lasts Forever (Club Edit)
44. Timo Graf, Dacia Bridges - Other Side (Original Mix)
45. Wawa feat. Mr. T - Boom Boom Boom (Cosmic Funk Remix)
46. Anton Pavlovsky feat. Jizz - Íåíàâèæó (Radio Mix)
47. DJ Öâåòêîff feat. Alisa Vox - Hot (Club Mix)
48. Arty & BT feat. Nadia Ali - Must Be The Love (Original Mix)
49. Dennis Cartier & Mc Sherlock - That Feeling (Robert Abigail Mainstage Remix)
50. Moonbeam feat. Jacob A - Only You (Club Mix)
51. David Hopperman feat. Amanda Wilson - Like I Like (Alex Lamb Remix)
52. Conor Maynard feat. Ne-Yo - Turn Around (Dave Aude Club Mix)
53. Fly Project - Musica (Datniele Remix)
54. Pink - Blow Me (One Last Kiss) (DJ Ozeroff & DJ Sky feat. Sanya Dymov Radio Edit)
55. Irakli - Give It All To You (DJ Favorite & DJ Kristina Mailana Radio Edit)
56. DJ Nil & Anthony El Mejor feat. Edgar T - Gypsy On Ibiza (Radio Vocal Mix)
57. Scooter - 4.A.M. (Club Extended)
58. Alexandra Stan - Lemonade (Rudedog Radio Edit)
59. No Doubt - Settle Down (Jonas Quant Remix)
60. Project B. feat. Kelly Rowland - Summer Dreaming 2012 (DJ Sergey Fisun Mix)
All references to music (video) are presented only for fact-finding listening and located not on our server. All files lay on foreign servers to which site Freshremix.ru irrelevant. Our site is only site on which Users spread references to these files which are publicly available. After listening you must delete the downloaded file and get a legal copy.