Biggy Jiggy Mixtapes - Exclusive Tunes 3D 5 (2012)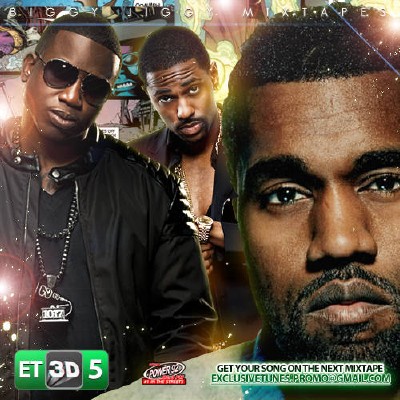 Biggy Jiggy Mixtapes - Exclusive Tunes 3D 5 (2012)
Rap & Hip-Hop | VA
224 kbps | MP3 | unmixed | 2012 | 156 Min | 216 Mb
Uploaded:
turbobit.net, letitbit.net, shareflare.net
Tracklist:
01 Fat Joe - Another Round (Feat. Fabolous, Chris Brown, Kirko Bangz, Mary J Blige)
02 Kanye West - Mercy (Feat. Big Sean, Pusha T, 2 Chainz)
03 French Montana - Shot Caller (Remix) (Feat. Jadakiss, Styles P, Red Cafe, Fat Joe, Uncle Murda)
04 Game - Come Up (Feat. Drake)
05 Exclusive Tunes 3D Promo
06 Kanye West - Theraflu (Feat. Dj Khaled, Dj Pharris)
07 Wiz Khalifa - It's Nothin (Feat. 2 Chainz)
08 Kendrick Lamar - The Recipe (Feat. Dr. Dre)
09 Hipsey Hussle - Og Kush (Feat. Blanco Kokane, B-Legit)
10 T.I. - Love This Life
11 Dj Scream - Hood Rich Radio (Feat. 2 Chainz, Future, Gucci Mane, Waka Flocka)
12 Game - Greystone (Feat. Fat Joe, Young Chris)
13 Currensy - What It Look Like (Feat. Wale)
14 Lep Bogus Boys - Kush And Leather (Remix) (Feat. Rick Ross)
15 Mikkey Halsted - Gone (Feat. Lupe Fiasco, Jim Lavigne)
16 Game - Bill Is Paid (Feat. Nipsey Hussle)
17 Future - Dat Recipe (Feat. Drumma Boy, Young Dolph)
18 Kevin Mccall - Gucci (Feat. Chris Brown)
19 New Boyz - Rain Dance (Feat. Cory Gunz)
20 Busta Rhymes - Climax (Feat. J Doe, Reek Da Villian)
21 Purchase Swag Cheap [Homiegear.Com Promo]
22 Game - Skate On (Feat. Lupe Fiasco)
23 Salez - Headlock
24 Stalley - Hell's Angels (Feat. Rick Ross)
25 Neako - Lvlclmx
26 Twista - Gucci Louis Prada (Remix) (Feat. Tyga)
27 Game - Mean Muggin (Feat. 2 Chainz, French Montana)
28 Dorrough - Pretty Feet (Feat. Twista)
29 Dj Op - Heart Of A Lion (Feat. Sauce Money, Sheek Louch)
30 Lil Phat - Dat All I Luv Bout Her (Feat. Yo Gotti)
31 Red Cafe - Feeling Hood (Feat. T-Pain)
32 Ne-Yo - In Love With You
33 Kelly Rowland - Need A Reason (Feat. Future, Bei Maejor)
34 Keri Hilson - Freedom Ride
35 Monica - Take A Chance (Feat. Wale)
36 Dj Allstyle - 3Dmix 5.0
37 Jeremih - Go To The Mo
All references to music (video) are presented only for fact-finding listening and located not on our server. All files lay on foreign servers to which site Freshremix.ru irrelevant. Our site is only site on which Users spread references to these files which are publicly available. After listening you must delete the downloaded file and get a legal copy.