Rowdy-T Northlondon - The World is not Enough
Date: 22.04.2011 | HipHop | Tags: ray-j, 50-cent, jay-z, drake, young-money, nickie-minaj, uk-hip-hop, goon, d-block, rowdy- t-northlondon, albums, beats, uk, mixtape, kanyewest, dr-dre, Eminem, | Download Rowdy-T Northlondon - The World is not Enough for free.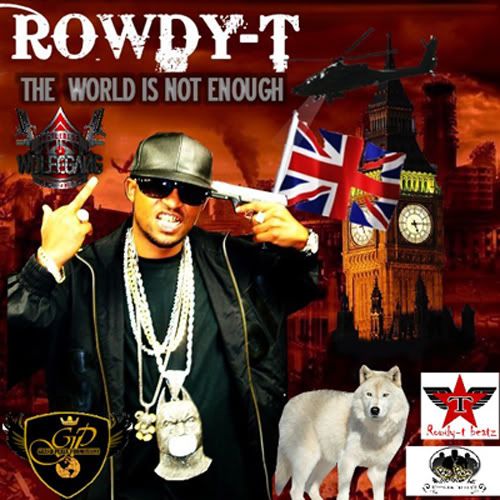 Rowdy-T Northlondon is a UK hip hop artist based in Miami Florida. He was notoriously catapulted to the world stage by World Star Hip Hop and Youtube as the man who had a beef with Yung berg and Jacked him of his diamond encrusted Batman chain. There has been no shortage of celebrity media interest in this story to feature Yung Berg & Rowdy-T Northlondon. This mixtape "THE WORLD IS NOT ENOUGH" lives up to its expectation of being filled with passion and craft; whilst there is no shortage of Rowdy-T repping his UK North London postcode. Rowdy-T has powerhoused himself into the music business with drive and passion, undoubtedly making him shine as his true potential as an artist shimmers through. This is a truly a unique listening experience with a few tracks of self examination and expression; amongst a powerful club banging track "UMAD" which has the potential to be a commercial hit if sanctioned by 50 Cent. Lyrically Rowdy-T has reinvented himself since his last album "YOU KNOW DA NAME" by maintaining his independence and producing most of the beats that he spits on. Proving his ability and range, he delivers rhymes from passion and untamed lyrics which are undiluted, unpretentious and charming yet retaining the gangster elements of what this mixtape is about. Rowdy-T still delivers a track or two for the ladies that is sweat and seductive yet disarming the ladies of an exclusive relationship with him. Rowdy-T Northlondon has collaborated with American hip hop artists who are affillated to Rowdy-T Northlondon's Wolfe Gang unit based in Miami. After listening to this album and learning more about the UK, he leaves the Yanks with a lingering message that North London UK is not just a cup of tea.
Rowdy-T Northlondon - The World is not Enough
Hip-Hop | Rowdy-T Northlondon
128 kbps | MP3 | mixed by tracks | 2011 | 1:16:31 | 81,96 Mb
Uploaded:
ul.to, filesonic.com
Tracklist:
1. shut em down rowdy-t feat yung bergs baby moma big hurt n rico barz
2. let em hate
3. OMG -London
4. rowdy-t bond riddm
5. steady mobbin
6. u mad remasterd
7. cant tie me down
8. what u rep
9. cnt tell me nuttun
10. pop feat dante
11. english man
12. make dat money
13. die on my feet mixtape version
14. super villain
15. hottest nigga under da sun track
16. touch da sky
17. gun shot track feat j-killa
18. husteling feat dante
19. judgement day feat navarsier stoneface n rowdy-t
20. monopoly big hurt feat rowdy-t
21. no mercy
22. shottaz remix feat yung ez rico barz n rowdy-t
All references to music (video) are presented only for fact-finding listening and located not on our server. All files lay on foreign servers to which site Freshremix.ru irrelevant. Our site is only site on which Users spread references to these files which are publicly available. After listening you must delete the downloaded file and get a legal copy.