Spring Tube Sampler 03 (2012)
Date: 29.05.2012 | House | Download Spring Tube Sampler 03 (2012) for free.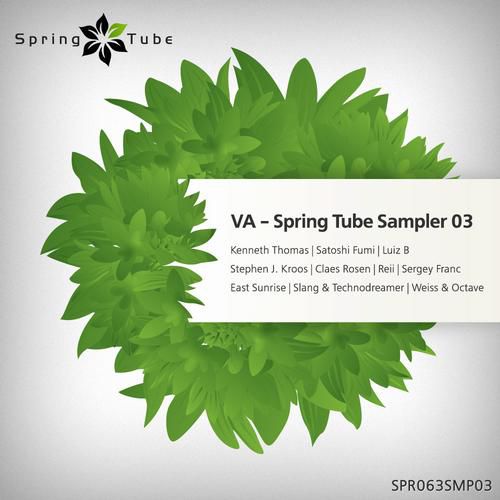 Following the tradition for Spring Tube sampler-releases in the third spring of label's existence we present you our 3rd sampler-instalment. As always here we have brand new original material on what we stake for all the next year till our further sampler and most of which will be released as a full singles with remixes later in 2012/2013. The package includes fresh works by some of our best artists from the highest echelon - Kenneth Thomas, Satoshi Fumi, Claes Rosen, Stephen J. Kroos and Luiz B; younger label's residents - Reii and Sergey Franc; both Spring Tube founders - East Sunrise and Slang w/ Technodreamer; and finally - by one new name for our roster - label's friends and partners on 'Spring Tube Label Night' events' organization - Weiss and Octave (Ganesha Promo).
Spring Tube Sampler 03 (2012)
Progressive House, Deep House | Spring Tube (cat#: SPR063SMP03)
320 kbps | MP3 | unmixed | 28 May 2012 | 01:14:58 | 172 Mb
Uploaded:
unibytes.com, turbobit.net, depositfiles.com
Tracklist:
01. Claes Rosen - Starlight (Original Mix) [6:12]
02. Slang & Technodreamer - Something About (Original Mix) [7:54]
03. Satoshi Fumi - Composition (Original Mix) [7:27]
04. Reii - Where Am I (Original Mix) [9:41]
05. Luiz B - Music Is Hypnotizing (Original Mix) [8:25]
06. Kenneth Thomas - Russian Lights (Original Mix) [6:27]
07. Stephen J Kroos - Europa (Original Mix) [7:27]
08. East Sunrise - Feelings Jar (Original Mix) [6:19]
09. Sergey Franc - Palumna (Original Mix) [8:54]
10. Weiss & Octave UA - Tokyo Sunset (Original Mix) [6:12]
All references to music (video) are presented only for fact-finding listening and located not on our server. All files lay on foreign servers to which site Freshremix.ru irrelevant. Our site is only site on which Users spread references to these files which are publicly available. After listening you must delete the downloaded file and get a legal copy.