Best World Remixes (March)(2011)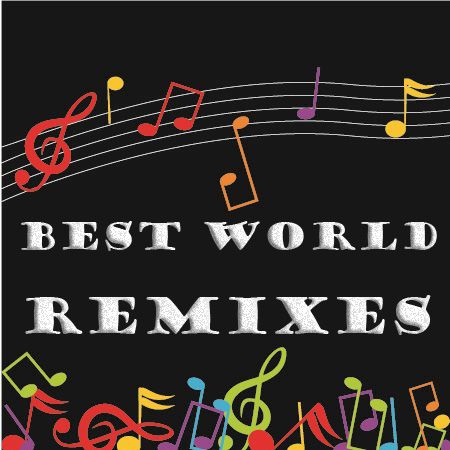 Best World Remixes (March)(2011)
Dance / Club / House / Electro-House | VA
320 kbps | MP3 | unmixed | 2011 | 567 min | 1190 Mb
Uploaded:
letitbit.net, shareflare.net, turbobit.net, filesonic.com, depositfiles.com
Tracklist:
001. Peter Gelderblom - Waiting 4 (Tim Royko Remix)
002. Alex Gaudino Feat. Kelly Rowland - What A Feeling (DJ Lorri Summer Splash Club Mix)
003. Javi Mula ft Re-Leese - Jet Set (Extended Mix)
004. Zombie Nation - Chickflick (Boris Dlugosch Remix)
005. SoundGirl - I'm The Fool (True Tiger Remix)
006. Britney Spears - I Wanna Go (Armand Deluxe Radio Edit)
007. Lady GaGa - Born This Way (Rafael Lelis Radio Mix)
008. Coldplay - Viva La Vida (DiscoTech Remix)
009. Mike Posner Ft. Lil Wayne - Bow Chicka (Adam1Time Remix)
010. Deadmau5 vs. No Face Boom pres. DJ Fabry - Systematic Reward (Jarecki Mash Up)
011. Wawa - Jukebox (Ivan Flash Remix)
012. Dan Balan - Justify Sex (DJ Nejtrino & DJ Stranger Remix feat Arfasound)
013. ATB, Streamrocker - Till I Come (DJ Melloffon Bootleg)
014. Topmodelz - Your Love (Electro Banger Radio Edit)
015. Baby Alice- Pina Colada (Brian Mart Sweet Remix)
016. First Place - Best Of Me (Digital Dog Radio Edit)
017. Pink - Heartbreak Down (Funk3d Club Mix)
018. Michael Mind Project feat. Mandy Ventrice & Carlprit - Hook Her Up (Club Mix)
019. Delerium Feat. Sarah McLachlan - Silence 2011 (David Esse & Antoine Clamaran Remix)
020. Britney Spears - Till The World Ends (Gareth Wyn Club Mix)
021. Adele - Rolling In The Deep (Guilliano & Fooltrack Bootleg)
022. Skytech vs Deadmau5 - A Comet In Florida (Skytech Mashup)
023. Peter Gelderblom - Waiting 4 (Bastian Van Shield Remix)
024. Fatboy Slim - Gangster Trippin 2011 (Lazy Rich Remix)
025. Lady GaGa - Born This Way (Rafael Lelis Club Mix)
026. Hurts - Sunday (Glam As You Club Mix)
027. Britney Spears - Baby One More Time '11 (ErekMcQueen 'Guilty Pleasure' Radio Mix)
028. David Guetta & Taio Cruz - Little Bad Girl (GrooveshakerZ & Whilliam Rise Remix)
029. Akon Feat. Pitbull & Jermaine Dupri - Boomerang (DJ outLiNe ReMiX)
030. Vanilla Ice Vs Tony Verdult - Ice Ice Baby (Dj Yura & Dj Bandersas Remix)
031. Sunset Stars & Kevin Forbes - I Want Your Love (Nexboy Explodes Remix)
032. Chris Willis - Louder (Dave Silcox Remix)
033. Swedish House Mafia - One 2011 (Constantin Bootleg)
034. Radio Killer - Lonely Heart (Odd Remix Radio Edit)
035. Gregori Klosman - Eye Of The Tiger Jaws (David Puentez Mash Bootique)
036. Sak Noel - Loca People (What The Fuck) (Original Mix)
037. Kelly Rowland - Motivation Feat. Lil Wayne (Main)
038. Adam Lambert vs Cascada vs Estelle vs Ludacris vs B.o.B. - If I Had A Freak (Mole MEGA Mashup)
039. Lady GaGa - Born This Way vs Express Yourself (Rafael Lelis Alternative Mix)
040. Zoe Badwi - Freefallin (UK Radio Edit)
041. Tinchy Stryder feat. Melanie Fiona - Let It Rain (Club Junkies Club Mix)
042. Trilogy - Good Vibrations 2K11 (Club Mix)
043. Benny Benassi ft Gary Go - Cinema (Congorock Remix)
044. Housemate & Noemi - In My Dreams 2011 (Housemate Tech Re-Work)
045. Gala - Freed From Desire 2011 (Milk Brothers New Edition)
046. Dj Evgeny Luxury - Christopher S feat. Pitbull - Hotel Room Service (Dj Evgeny Luxury Mash-Up)
047. Swedish House Mafia - Show Me Love (Steve Angello And Kim Fai Remix)
048. Spencer & Hill - I Spy (Hard Rock Sofa Remix)
049. Javi Mula ft Re-Leese - Jet Set (Instrumental Mix)
050. Peter Gelderblom - Waiting 4 (Manuel De La Mare Remix)
051. Adele - Rolling In The Deep (Downtown London Extended Mix)
052. Tiesto & Hardwell ft. Adele - Zero 76 (Kriss One Is Rollin In The Deep Edit)
053. Kylie - Put Your Hands Up (Pete Hammond Retro Edit)
054. Eric Chase - Thats Why I Put My Hands Up (Original Mix)
055. Alistair Albrecht vs Billy Idol – White Wedding (Bootleg)
056. Deadmau5 feat Mr. V - Animal Forth (DJ Melloffon Bootleg)
057. Global Deejays & Niels van Gogh - Bring it back (Extended Mix)
058. Scotty - Braveheart 2k11 (Money G Remix)
059. Bob Sinclar & Raffaella Carra - Far L'Amore (Radio Edit)
060. Paki & Jaro Feat. Sarah C - Too Many Reasons (Club 2vision Mix)
061. Hurts - Sunday (Seamus Haji Club Instrumemental)
062. Swedish House Mafia - Show Me Love (Original Mix)
063. Benny Benassi feat. The Bizz - Satisfaction (Dimitri Vegas & Like Mike remix)
064. Offer Nissim Ft. Epiphony & Elisete - Million Stars (Original Club Mix Dj Akken Intro Edit)
065. Eran Hersh & Darmon, George F vs. LMFAO - Hangover In Miami Bitch (Original Mashup)
066. Cedric Gervais feat. Mya - Love Is The Answer (Sebjak Remix)
067. Masters Of South feat. Jay Delano & R. Kay - Dance Until You Drop (Easytech Remix)
068. Linkin Park - Waiting For The End (The Glitch Mob Remix)
069. Rudedog - Feel The Power Of Bass (Cahill Extended Mix)
070. David Guetta & Taio Cruz - Little Bad Girl (Grooveshakerz & Whilliam Rise Bootleg)
071. Shakira, Pacha All Stars - Las De La Intuicion (Robert M & Dirty Rush Remix)
072. Niels Van Gogh vs Martin Solveig - Into The Poptimistic (Maite Radar Mashup)
073. Black Eyed Peas - Just Can't Get Enough (Aylen Remix)
074. Pitbull,David Guetta & Afrojack-Something Djs-SusioRemix ( El Dj Doodejay Mix)
075. Michael Jackson - Hollywood Tonight (J-hero Dance Edit)
076. Far East Movement Ft. Dev - Like A G6 (Digital Degenerates Bootleg Freemix)
077. Loleatta Holloway - Love Sensation vs Ride On Time (Paul Goodyear DMC Remix)
078. Britney Spears - 3 (ErekMcQueen 'Living In Sin' Club Mix)
079. Snow Patrol - Make Me High (Radio Edit)
080. Gareth Emery Ft. Mark Frisch - Into The Light (Lange Remix Edit)
081. Alexandra Stan - Mr. Saxobeat (Sito Lopez Remix)
082. Nicki Minaj feat. Drake - Moment 4 Life (Dj Kue Clean Remix)
083. Rihanna - S&M (DJ Wined Chains & Whips Remix)
084. Duran Duran - Hungry Like The Wolf (Streetlife DJs Re-Edit)
085. Markus Gardeweg - Why Dont You Let Me Know (Short Edit)
086. Jay Sean feat. Lil' Wayne - Hit The Lights (7th Heaven Explicit Radio Edit)
087. Jeniffer Lopez - On The Floor (Jonnas Roy & Adrian Blazz Krazzy Mix)
088. Pitbull Feat. T-Pain - Shake Senora (Original Mix)
089. Andrea Rosario - We Own The Night (Sidney Samson Club Mix)
090. David Guetta - Just a Little More Love 2011 (Big Room Remix)
091. Peter Gelderblom - Waiting 4 (Twice Nice Remix)
092. Jennifer Lopez Feat Pitbull - On The Floor (Mixin Marc N Tony Svejda La To Ibiza Mix)
093. Michael Jackson - Hollywood Tonight (Throwback Mix)
094. Javi Mula - Come On 2011 (David No Fuck VIP Remix)
095. Ciara feat. Missy Elliot - 1, 2 Step (Sunder & Milenixxx Remix)
096. Gabry Ponte Feat. Maya Days - Sexy DJ (In Da Club) (Bellani & Spada Remix)
097. Chris Brown Vs. Jaylien - Beautiful People (Jaylien Midnight Mix)
098. Amna - Tell Me Why (Tom Boxer LLP Extended Mix)
099. Dr.Alban Vs. Sash - Hello Africa (Rico Bernasconi & Max Farenthide Mix)
100. Neoclubber - Feel The Vibe (Dance Remix)
All references to music (video) are presented only for fact-finding listening and located not on our server. All files lay on foreign servers to which site Freshremix.ru irrelevant. Our site is only site on which Users spread references to these files which are publicly available. After listening you must delete the downloaded file and get a legal copy.