Music World Remixes Vol.2 (2011)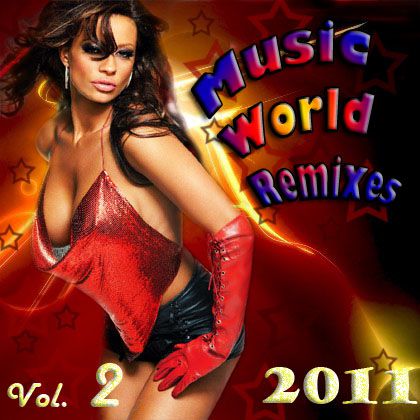 Music World Remixes Vol.2 (2011)
Dance / Club / House / Electro - House | VA
320 kbps | MP3 | unmixed | 2011 | 382 min | 690 Mb
Uploaded:
letitbit.net, turbobit.net, unibytes.com, depositfiles.com, filesonic.com
Tracklist:
01. Yves Larock,Tony Sylla - Pan! Pan! (Bandidos Mix)
02. Shakira - Loca 2k11 (DJ Timo Crash & Chris Wolter Bootleg Bag)
03. Robyn - Call Your Girlfriend (Kaskade Radio Edit)
04. Higher Tone - Drop It To The Floor (Liam Keegan Remix feat. Beenie Man)
05. Adele - Rumour Has It (Aleko's Retrovirus Club Mix)
06. Carolina Marquez - Wicked Wow (Chuckie Radio Mix)
07. Carolina Marquez - Wicked Wow(Dj Chuckie Extended Mix)
08. Omega feat. Akon - El Producto (Original)
09. No Doubt - Dont Speak 2.11 (Martin Parker Keep The Fuck' Bootleg)
10. Thomas Gold vs. Miike Snow - AGORa Silvia (Romain G Bootleg)
11. Swedish House Mafia - Intro One vs. Leave The World Behind (Romain G 2011 Edit)
12. Afrojack vs Martin Solveig - Hello Replica (Club Banditz Reworked Edit)
13. Black Eyed Peas - The Time 2011(Florian De Jano Bootleg)
14. Ciara - 1.2 Step (Feeldii Private Mix)
15. Don Diablo ft. Dragonette - Animale (Martin Volt & Rene Kuppens Remix)
16. Example - Changed The Way You Kiss Me (Radio Edit)
17. Justin Timberlake - Like I Love You (Dj Micaele Remix)
18. Ke$ha - Blow (D3Y vs. Lanxodt Radio Edit)
19. Afrojack vs. Martin Solveig - Hello Replica (Carl Serra Reboot)
20. The Prodigy - Smack my bitch up (Custom Breakz Remix)
21. Rihanna - Only Girl (In The World) (Freemasons Unreleased Club Mix)
22. Nightcrawlers Feat. Taio Cruz – Still Cryin' (Freemasons 129 BPM Time Stretched Mix)
23. Gigi D'Agostino - I'll Fly With You 2011 (Joe1 Remix).
24. Cassie - Lets Get Crazy (Party Rock Remix) feat LMFAO & Akon
25. Late Night Alumni - Empty Streets (Carl Hanaghan & Ted Nilsson Remix)
26. B.O.B. Ft. Hayley Williams - Airplanes (Gal B.H Remix)
27. The Cataracs feat. DEV - Bass Down Low (5K Dub)
28. Ottomix & D.J. Groovy òÀÓ Tiko Tiko (Eui Ela Ela Ualaela) (Remix)
29. Nick Svenson & Simon D vs. Axwell & Dirty South - Open Your Galaxy (Xantra & Aron Scott Universe Bootleg)
30. Black Eyed Peas - Just Can't Get Enough (Thiago Antony Extended Mix)
31. D.I.M. feat. Tai vs. Kid Cudi vs. Faithless - Day N Insomnia Lyposuct (Romain G Bootleg)
32. Cirez D vs. Axwell vs. Daft Punk - Feel Around The On Off (Romain G Bootleg)
33. Steve Angello - Rave 'n' Roll (Romain G Bootleg Mix)
34. J-Lo feat.Pitbull - On the Floor (Fabian Gray Dutch You Up Bootleg)
35. Linkin Park - Numb (DJ Velchev Pavel Remix)
36. Britney Spears - Big Fat Bass (Leo Marti Fashion Club Mix)
37. TV Rock & H'N'S vs Diddy ft. Skylar Grey & Rudy - Diamonds In The Sky Are Coming Home (Danny Better Edit)
38. Porter Robinson & Lazy Rich Feat. Sue Cho - Hello (Digital Freq Remix)
39. Black Eyed Peas - Time (Damien N-Drix Remix)
40. Martin Solveig - Hello (Nick Barns Remix)
41. David Guetta (feat Taio Cruz) - Little Bad Girl (Original)
42. Sting - Shape Of My Heart (Dj Glabasha Remix 2011)
43. Lune - Girls With Bangs (Tiesto Remix)
44. David Guetta - The World Is Mine (Dj Rynno & Dj Bonne Remix 2011)
45. Swedish House Mafia & Tinie Tempah - Miami 2 Ibiza (Mike Candys Bootleg Mix)
46. Kat Deluna - Bailando (86 & Soundset Remix)
47. Dr. Kucho!, Adonis Alvarez, Marta Bolanos - La Tarde Se Ha Puesto Triste (John Jacobsen & Anzwer Remix Full Vocal Version)
48. Katy Perry - E.T (Love Shakerz! & Ghosts United 'Night' Remix)
49. Oxia vs. Michael Jackson vs. Supermode - Domino vs. Billie Jean vs. Tell Me Why (Romain G Bootleg)
50. GoodFellas feat. Trox - Call On Me 2011 (Original Vocal Mix)
All references to music (video) are presented only for fact-finding listening and located not on our server. All files lay on foreign servers to which site Freshremix.ru irrelevant. Our site is only site on which Users spread references to these files which are publicly available. After listening you must delete the downloaded file and get a legal copy.