Music World Remixes Vol.3 (2011)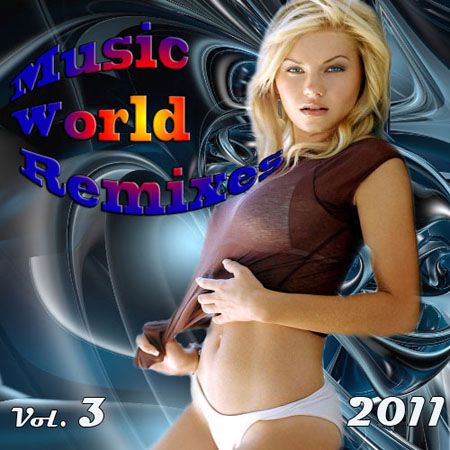 Music World Remixes Vol.3 (2011)
Dance / Club / House / Electro - House | VA
320 kbps | MP3 | unmixed | 2011 | 355 min | 685 Mb
Uploaded:
letitbit.net, turbobit.net, unibytes.com, depositfiles.com, filesonic.com
Tracklist:
01. Gigi D'Agostino - Bla bla bla bla (DJ's From Hell Extended Remix)
02. Kat Deluna - Bailando (Ralphi Rosario Club Mix)
03. Shakira - Loca 2k11 (DJ Timo Crash & Chris Wolter Bootleg Bag)
04. Adele - Rolling in the deep (Circus Circus Bootleg)
05. Tom Boxer feat. Shisha - Allez Allez (Viento & Mutti Remix)
06. Lady GaGa - Born This Way (Starsmith Remix)
07. Axwell - I Found You (Dj Vic Sky Remix 2011)
08. David Guetta (feat Flo Rida & Nicki Minaj) - Where Them Girls At (Original)
09. Pitbull , Ne-Yo & Afrojack - Give Me Everything ( Mikael Wills Remix)
10. Natalia Kills - Mirrors (DJ Amor Remix)
11. Tiesto pres. Steve Forte Rio feat. Lindsey Ray - Slumber (Original Mix)
12. Snap! - Cult Of Snap! (Dj ViTar Funky Mix)
13. Avicii - Sweet Dreams (Barletta Mix)
14. Infernal - From Paris To Berlin (Vova Baggage & Kirillich Remix)
15. The Hitmen - Like I Love You (Money-G Bootleg Mix)
16. Gigi D'Agostino vs. BEP - Ginnastica Boom Boomale (Gordon & Doyle Bootleg Mix)
17. Diddy - Im Coming Home (Steve Mits Remix)
18. Afrojack - Take Over Control (Spens Edit Mix)
19. Rupee - Tempted to Touch (Funk D Bootleg)
20. Pedro Carrilho - Bocalinda (Bra Belmonte Remix)
21. Nightcrawlers feat Taio Cruz - Still Cryin (Cahill Extended)
22. Duck Sauce - Barbra Streisand (Badboys Brothers Bootleg)
23. Freemasons Vs Ultra Nate - Automatic Watchin' (Andrea Fiorino Semi-Automatic Booty)
24. Axwell & Ingrosso - Together (Julien Creance WMC Remix)
25. Beyonce & Jay Z - Crazy in Love (Dj Stylezz Remix)
26. Kurd Maverick & The Shapeshifters - Warum Nisht Lolas Theme (Munich House Mafia Bootleg)
27. Ciara - 1.2 Step (Feeldii Private Mix)
28. Example - Changed The Way You Kiss Me (Tom Starr Remix)
29. Laura Jansen - Use Somebody (Armin van Buuren Rework)
30. Basto Vs Bruno Mars - Gregorys Grenade (Paul George Re-Mash)
31. Taio Cruz Feat. Kylie Minogue & Travie McCoy - Higher (Yiannis Illustrious Mix)
32. Max Riolo vs Corona - The Rhythm Of The Night (Max Riolo Unauthorized Mix)
33. Jennifer Lopez feat. Pitbull - On the Floor (Fabian Gray Dutch You Up Bootleg)
34. Britney Spears - Till The World Ends (2nd Adventure Radio Instrumental)
35. Catwork Remix Engineers - Like A G6 (Club Remix)
36. TV Rock vs. Laidback Luke vs. Basement Jaxx vs. Eurythmics - Your Sweet God Is In The Air (Tager & RZ81 Bootleg)
37. Hot Rod feat. Ne-Yo & Afrojack - Give Me Everything (Remix)
38. Kolya & Matuya feat. Ely - Love Again (Hard Rock Sofa Remix)
39. Axwell vs. Dirty South - Heart is Opened (Bream Mashup Mix)
40. Kat DeLuna - Whine Up (Fabio Brand's Alexander & Mark VDH Radio Edit)
41. Swanky Tunes & Hard Rock Sofa - Thank You (MYNC Exclusive Edit)
42. Pink - Fuckin' Perfect (Liam Keegan Clean Club Mix)
43. Hannah & Miami Calling - Taking Over Now (Bimbo Jones Club Mix)
44. Javi Mula Vs Busta Rhymes - Jet Dangerous (Moredan Mash'Up 2011)
45. Carolina Marquez - Wicked Wow (Chuckie Extended Mix)
46. Martin Solveig & Dragonette - Hello (Dj Lesware Remix)
47. Crazibiza Vs. Madison Ave. - My Lips Don't Call Me (Adrian Villaverde Mashup)
48. Los Del Rio – Macarena 2011 (Funk D Bootleg)
49. Central Avenue - Pushin feat Andrea Love (Original Mix)
50. Rihanna - Love The Way You Lie (Marco Belz Unreleased Remix)
All references to music (video) are presented only for fact-finding listening and located not on our server. All files lay on foreign servers to which site Freshremix.ru irrelevant. Our site is only site on which Users spread references to these files which are publicly available. After listening you must delete the downloaded file and get a legal copy.