Music World Remixes Vol.4 (2011)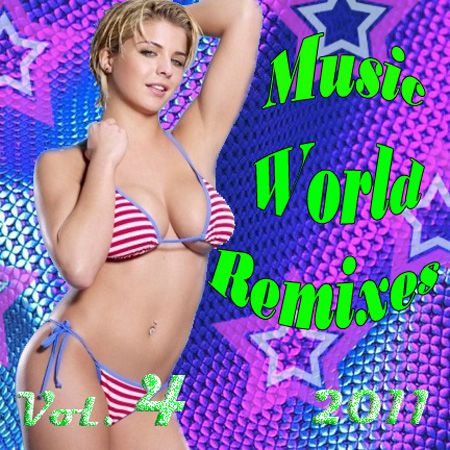 Music World Remixes Vol.4 (2011)
Dance / Club / House / Electro - House | VA
320 kbps | MP3 | unmixed | 2011 | 459 min | 691 Mb
Uploaded:
letitbit.net, turbobit.net, unibytes.com, depositfiles.com, filesonic.com
Tracklist:
01. The Saturdays - Forever Is Over (Romeyboy's Especially For Anouk Remix)
02. Kylie Minogue - Put Your Hands Up (Retromatik Extended Mix)
03. Pitbull , Ne-Yo & Afrojack - Give Me Everything ( Mikael Wills Remix)
04. Axwell - Feel The Vibe (Ligae Beach Party Mix)
05. David Guetta (feat Flo Rida & Nicki Minaj) - Where Them Girls At (Original)
06. Late Night Alumni - Empty Streets (Carl Hanaghan & Ted Nilsson Remix)
07. Late Night Alumni - Empty Streets (Haji & Emanuel Remix)
08. Michael Gray vs Simon Gain & Jay Adams - The Weekend Bazooka (Munich House Mafia Bootleg)
09. Europa - The Final Countdown (Dj Kalganov Mash Up)
10. Kismet Vs. Axwell - The Roll Vs.Watch The Sunrise (Chuckie's Summer Bootleg)
11. Afrojack - Replica Duck (Marco Belz who the FCK is A&G Mashup)
12. Chris Brown - Yeah 3x (Gatuzo Remix)
13. Eric Prydz - Pjanoo (Syntheticsax Bootleg)
14. The Black Eyed Peas - Just Can't Get Enough (2nd Adventure Radio Mix)
15. Britney Spears - Till The World Ends (2nd Adventure Club Edit)
16. Britney Spears - Till The World Ends (Olli Collins Club Mix)
17. Depeche Mode - Never Let Me Down Again (Eric Prydz Remix)
18. Christopher S & Mike Candys feat. Jamayl Da Tyger - Jump (Slin Project Remix)
19. Lune - Girls With Bangs (Tiesto Remix)
20. Swedish House Mafia - One (Freeze Remix)
21. Avril Lavigne - What the Hell (Lewis & Clark Bootleg Mix)
22. Enjoy Djs - Bailando (DJ Nejtrino & DJ Stranger Remix)
23. September - Resuscitate Me (Buzz Junkies Club Remix)
24. Rupee - Tempted to Touch (Funk D Bootleg)
25. Kaskade, Diddy, Dirty Money & Dirty South - Coming Home at 4 AM (Kaskade Mash Up)
26. Demid - Chareless Whisper (Original Club Mix)
27. Axwell – Heart is King (Saul Gonzalez Mashup)
28. Central Avenue - Pushin feat Andrea Love (Original Mix)
29. Swedish House Mafia - Blow Up vs. Pump Up The Jam Bootleg (Romain G Reboot)
30. Maffi Jay Meets Dj Player - IL Molto Vivace (Scotty Remix)
31. Chris Brown vs Robert Miles - Beautiful Children (DJ Oskar's Mashup)
32. Sebastian Ingrosso & Dirty South vs. Eric Prydz - Pjanoo Silvia (Romain G 2011 Rework)
33. House Of Pain - Jump Around (Dr Bellido & Kilian Dominguez Remix)
34. Kim Fai vs. Tara McDonald - Supernova Delirious (Romain G Bootleg)
35. Swanky Tunes & Hard Rock Sofa - Thank You (MYNC Exclusive Edit)
36. Hannah & Miami Calling - Taking Over Now (Bimbo Jones Club Mix)
37. Catwork Remix Engineers - Like A G6 (Club Remix)
38. Justin Timberlake - Like I Love You (Dj Micaele Remix)
39. Southside Spinners - Luvstruck 2011 (Tony Tweaker & Acid Luke )
40. Martin Solveig & Dragonette - Hello (Dj Lesware Remix)
41. Andeeno Damassy vs Lindy - Just Be Good To Me 2011 (Club Mix)
42. Stereo Palma - Lick It (Ryan Riback Remix)
43. E-Type - Back 2 Life (Ultra Djs Remix)
44. Natalia Kills - Mirrors (DeviceSounD Remix)
45. Riz feat. Pitbull - Dance With Me (Jump Smokers Clean Extended Mix)
46. Kolya & Matuya Feat Ely - Love Again (Hard Rock Sofa Remix)
47. CocknBullKid - Asthma Attack (WaWa Extended Mix)
48. Mariah Carey - The Impossible (Kris Di Angelis & Ben Dobie 'Pooldisco' Remix)
49. Nightcrawlers feat Taio Cruz - Still Cryin (Cahill Edit)
50. Michael Jackson - Off The Wall (Beatfreak 2011 Remix)
All references to music (video) are presented only for fact-finding listening and located not on our server. All files lay on foreign servers to which site Freshremix.ru irrelevant. Our site is only site on which Users spread references to these files which are publicly available. After listening you must delete the downloaded file and get a legal copy.