Music World Remixes Vol.6 (2011)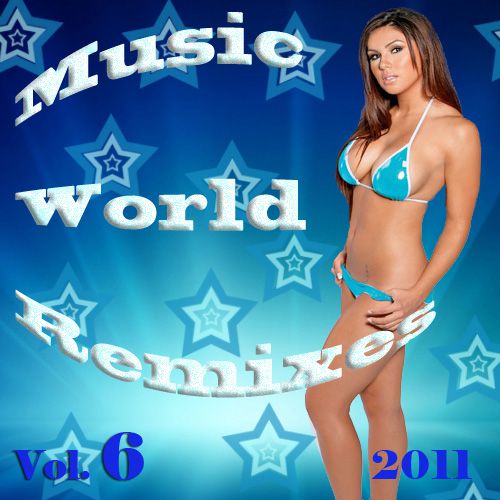 Music World Remixes Vol.6 (2011)
Dance / Club / House / Electro - House | VA
320 kbps | MP3 | unmixed | 2011 | 283 min | 621 Mb
Uploaded:
letitbit.net, unibytes.com, depositfiles.com
Tracklist:
01. Junior Sanchez, Alexander Technique Vs. Black Eyes Peas - Where You Just Can't Get Enough (Eran Hersh & Darmon Super Mashup)
02. Lady GaGa - Judas (Alessio Silvestro Club Mix)
03. Zoe Badwi - Freefallin (Jamalson Remix)
04. Pakito & Far East Movement — Like A G6 ( Dj Greegary Jan Mash Up)
05. Adele - Rolling In The Deep (Danny Better Remix)
06. Christopher S & Andrew Spencer - Komodo Video Killed The Radio Star (Davis Rework 2011)
07. Rank 1 - Airwave (Disfunktion Bootleg)
08. Kate Ryan - LoveLife (Mike Candys Remix)
09. Willow Smith - 21st Century Girl (Jump Smokers Radio Edit)
10. Ke$ha - Blow (Funk3d Extended Mix)
11. Lux - Cherry Bomb (Wawa Club Mix)
12. Kazaky - In The Middle (Leo Marti Fashion Club Mix)
13. J. Majik & Wickaman feat. Dee Freer - In Pieces (7th Heaven Club Mix)
14. David Guetta Ft.. Nicki Minaj & Flo Rida - Where Dem Girls At (Sidney Samson Extended Mix)
15. Axwell - Heart is King (Saul Gonzalez Mashup)
16. Rihanna - S & M (Dj Nejtrino & Dj Baur Remix)
17. Nas - Made You Look (Aylen Remix)
18. Swedish House Mafia & Congorock Vs. Tim Mason - One Moment (Alex Prigenzi Bangin Bootleg)
19. Usher - Dj Got Us Fallin ft. Pitbull (Van Sonic & Jurky 2011 Remix)
20. Afrojack feat. Pitbull & Ne-Yo - Give Me Everything (DJ Kaybul Remix)
21. Eminem and Booty Luv - Hot Pink Superman (Mole Mashup)
22. Groove Coverage - Innocent (Club Mix)
23. Britney Spears - 123 (Panca Borneo Remix)
24. Avicii - Good Morning Sweden (Avicii Coloseum Mix)
25. Public Enemy Night Of The Living Bassheads (Figure Remix)
26. Stevan Chaves, Ismael Sanchez, Infinity Djs vs Ruben Alvarez & Rober Gaez - The Rhythm Of Sneak In (Fran Ricarte Re-MashUp)
27. Zoe Badwi - Accidents Happen (Fabian Gray & Emanuele Remix)
28. Los Lobos - Spanish Guitar (Tr!Fle Pumping Mix)
29. Black Eyed Peas - The Time (DJ Daniel Remix)
30. Engineers Feat. Anda Adam - Show Me (Catwork Remix)
31. Kanye West ft Rihanna – All of the Lights (Joe Maz Remix)
32. Max Riolo vs Corona - The Rhythm Of The Night (Max Riolo Unauthorized Mix)
33. Tiesto - Green Sky (Oryginal Mix)
34. Ian Carey feat. Snoop Dogg & Bobby Anthony - Last Night (Dani L. Mebius Remix)
35. Katy Perry Vs. Underworld - Fireslip (Club Mix)
36. Akcent - Love Stoned (Eric Chase Remix)
37. Daft Punk & Kanye West - Harder Better Faster Stronger (Double Fresh Bootleg Mix)
38. Edward Sharpe &The Magnetic Zeros - Desert Song (Turbotito Remix)
39. Diana Vickers - The Boy Who Murdered Love (BuZZ-Boi's Glam As Radio Edit)
40. LMFAO - Party Rock Anthem (Tommie Sunshine Vande Gross Edit)
41. Riz feat. Pitbull - Dance With Me (Jump Smokers Clean Extended Mix)
42. Amanda Morra - Kisses (Ana Paula Club Mix)
43. Ducks On Dope - Hypnotizing (Michael Mind Project Remix)
44. Hurts - Wonderful Life (Freemasons Radio Edit)
45. Robyn - Hang With Me (Reset! Remix)
46. The Glam & Coolio & Snoop Dogg - One Night In L.A. (Bernasconi & Farenthide Re-Cut)
47. Supermode - Tell Me Why (Fuseboxers 2011 Remix)
48. Dave Darell us Chuguni Skorohod - Flash Trevoga 2.9 (Incognet Booty Mix)
49. Faithless Vs Axwell - Let It Go Insomnia (Twill Bootleg)
50. Roger Sanchez feat. GTO - Turn On The Music (Andrew Diverson & Davies Soldberg Re-Work)
All references to music (video) are presented only for fact-finding listening and located not on our server. All files lay on foreign servers to which site Freshremix.ru irrelevant. Our site is only site on which Users spread references to these files which are publicly available. After listening you must delete the downloaded file and get a legal copy.